Help for the
Jolly Roger Phone Defender App
For Android
CURRENT VERSION: We are currently distributing version 1.6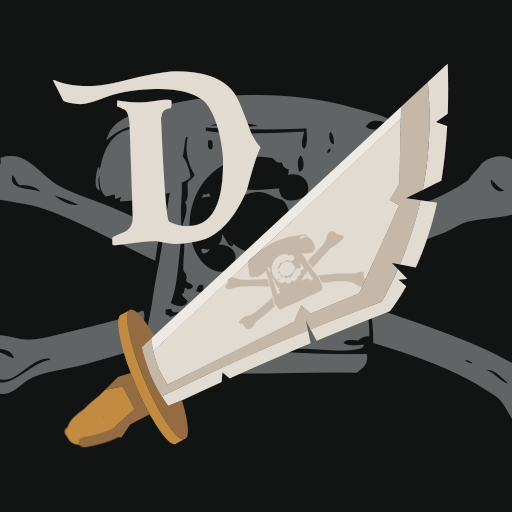 Can't find the help you need on this page? Then please contact our support team (click the blue "Help" button, bottom right on any page), and let them know which version of the Android OS and the Defender App you are using. You can find this out quickly by going to the "About" page in the Defender app. The version of the Defender app is at the top, and the version of the Android OS is all the way at the bottom.
---
Question:  Will this app work on my phone? 
YES, if it is using Android 7, 8, or 9.    NO, if it is using the new Android 10.   NO if it is an iPhone.
This application is for Android phones only.   Unfortunately at this time Apple is not allowing developers to control dialing and transferring of calls, as is required to make Defender work.
This application is designed for phones using the Android mobile operating system versions 7 ('Nougat'), 8 ('Oreo'), or 9 ('Pie').    Please use this application with these versions of the operating system only, and we will be able to help you with most issues that you may encounter.
Please do not try to use this app with older versions (e.g Android 6 or earlier),  or with the new Android 10.    The latest operating system from Google, Android 10, has a lot of changes with how it handles phone calls and we will need some time to rewrite Defender to use this version.   To be clear, we do not support Defender on Android 10 devices at this time.
Also, this app is NOT for use with Google Fi.   The next section explains why.
---
Question:  How much does it cost?   Do I need a Jolly Roger subscription?

The Defender app is FREE!    But you do need to have a Jolly Roger subscription to use it   (so think of it as a free optional feature included with your subscription).    Not signed up yet?  Here's a link: Click here to signup
The Defender app is a free app, but you do need to have a Jolly Roger subscription in order for it to work.    This is because it is using your personal whitelist and blacklist  every time it screens an inbound call, and these lists are only provided to active subscribers.   Also, the results of every call it handles is added to your Call Log (that you can view on our website, or in our new "Captain's Log" app), which also requires a subscription.
---
Question:  Does this work with Google Fi?

If you have Google Fi, you do not need this app.   Here's how to setup Google Fi:  Setup Google Fi
This app is for phones that are connecting via the cell phone carriers (e.g. AT&T Wireless, Sprint).   For these phones, Defender will use the "conditional call forwarding" feature to send spam calls to our pirates.    When you use Google Fi, you are using an internet connection from a landline carrier (e.g. Comcast), and they don't support "conditional call forwarding".    But you CAN use Google Fi with our service and get great protection…it's just that the Defender app is not needed.   Here's how:
-First, setup Google Fi as a VoIP line so that you can use Jolly Roger's automated screening.   This works because Google Fi has a  "simultaneous ring" feature (see Getting Started with a Landline Phone), Jolly Roger will likely pick up your spam calls  automatically before your phone rings a second time.
-Second, if you answer a call from a spammer by mistake, simply press "*" and it will ring through to all of your Google Fi numbers, again, including Jolly Roger. Jolly Roger will see the call as originating from your phone and will pick up right away, even if the caller's not blacklisted (or have a high spam score.
---
Question:  What permissions does it need to work?

The first time you use the app it will prompt you for several permissions.  You must agree to provide all of these requested permissions or the app may not be able to function properly:
"Allow Phone Defender to make and manage phone calls?"
This allows it to intercept incoming calls to block suspected spam callers and send them to our "pirate" bots.
"Allow Phone Defender to access your contacts?"
This allows us to check if the caller is known to you (use your contact list as a whitelist)
"Allow Phone Defender to send and view SMS messages?"
If you want to send text messages while Phone Defender is handling an inbound call for you, then it will need this permission.
"Allow access to Do Not Disturb to Phone Defender?"
We use this permission to prevent ringing for incoming calls if they are suspected of being spam.   This way you are no longer interrupted and distracted when spam calls arrive.
---
I NEED MORE HELP!
Ok, please contact us by clicking on the blue "Help" button on the bottom right of any page, or by emailing us at support@jollyrogertelephone.com .
For faster service, please tell us who your phone company is and include the info found on the "About" page of the Phone Defender app as shown in the pictures below: